UI Components
Overview
This section covers our standard UI components, pre-built elements that you can use, combine, or customize. Reuse our UI components to simplify development and help your app feel familiar for users. All of these components are available in a Sketch file in Downloads.
Mixed Text
This component shows how to configure a header with text in all possible layouts and is the basis for all components that use typography. Most components in our system use the Center-Middle or Left configurations, but you can choose the layout that is best for your app. Mixed text dynamically handles the layout, spacing, wrapping, and overflow of your copy.
Details
Header
Font: Medium header
Color: Primary color
Text
Font: Medium copy
Color: White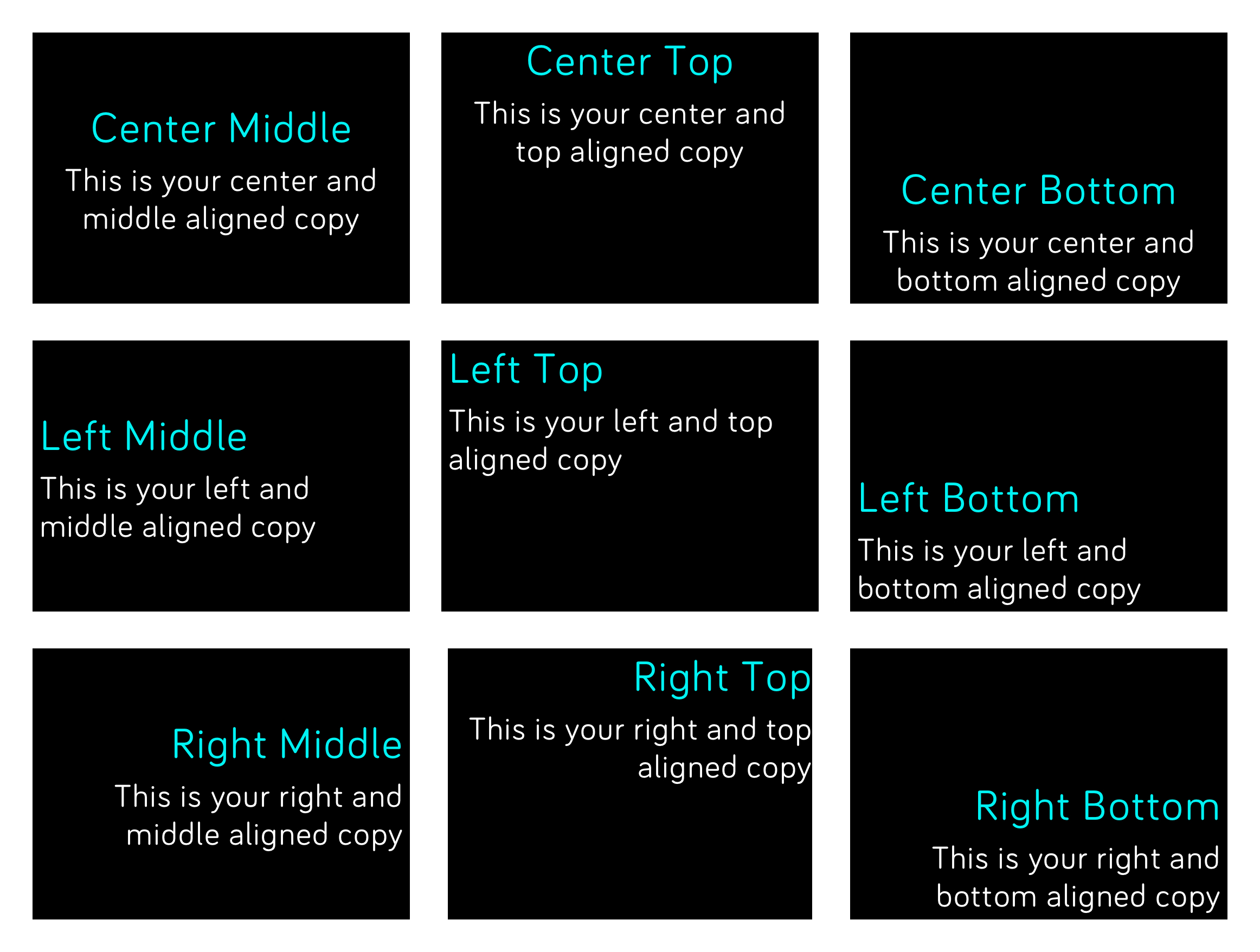 Stats
We use two layouts to display statistics during an activity, such as exercise. While we don't provide this component in our SDK, we suggest using the following guidelines to create it. (show example: exercise for med and lrg, call out items)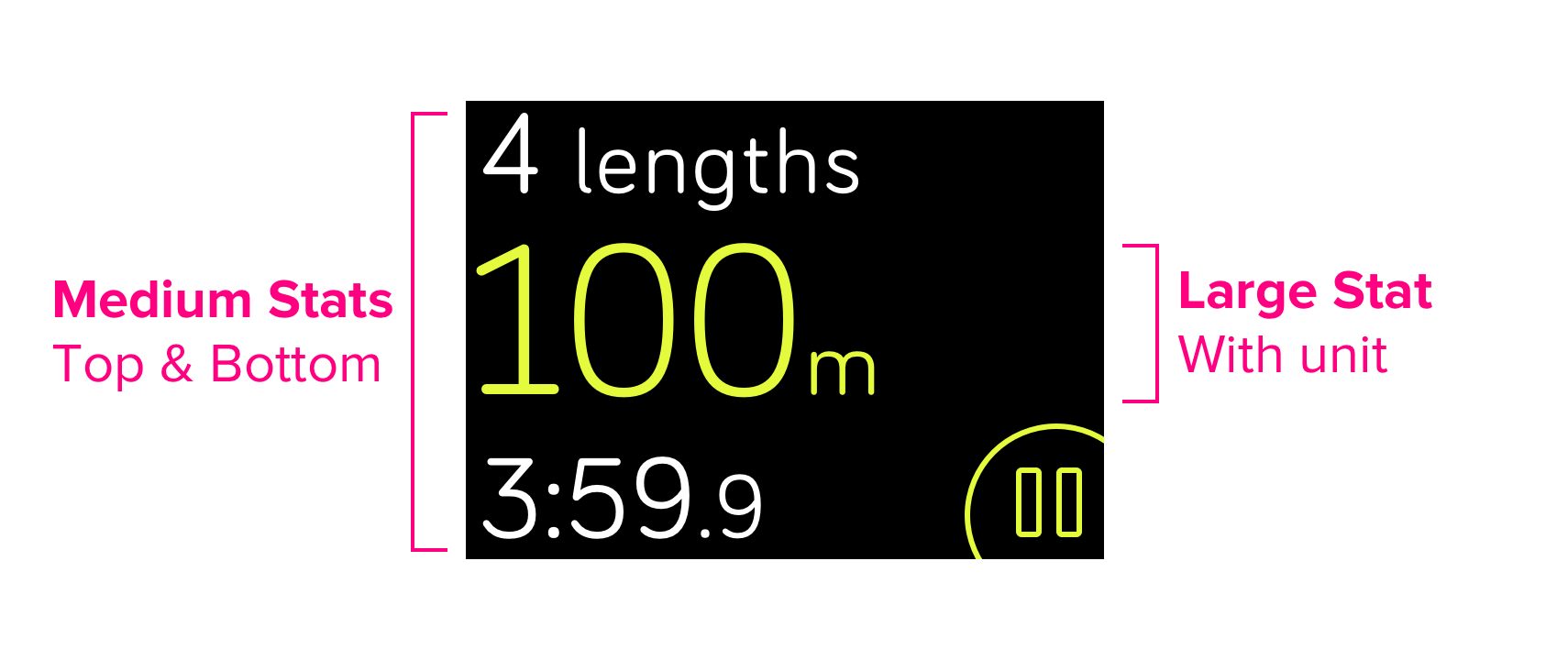 Large Stat
Large stats show a user's progress in an activity. This glanceable component is designed to fit 5 full-size characters. The vertical text position should be fixed in the middle of the screen, but horizontal alignment is flexible. This pattern can be paired with the medium stat on the top or bottom of the screen.
Details
Large Value
Font: Large number, use overflow guidance at 6+ characters
Color: Primary color or custom
Tenths
Font: Medium Number
Color: Same as Large Value
Units
Font: Large header
Color: Same as large value
Recommendations
Consider how glanceable data is for a user while in motion.
Reserve these for numeric data.
Medium Stat
Medium stats show a live stat, viewable while in motion. These stats are fixed at the top or bottom of the screen and are best for showing live data, like current heart rate or a countdown timer.
Details
Stat Value
Font: Medium number
Color: White, or custom
Stat Unit
Font: Large header
Color: Same as stat value
Buttons
Square Buttons
Square buttons are traditional buttons that respond to screen taps. Use semantic colors where possible and short words that fit in buttons. Overflowing text will shrink and then truncate.
Details
Font: Medium header
Font Alignment: Center middle
Height: 60px minimum
Haptic: Confirmation on tap
[Optional] Icon Size: 32x32px.
Full-Width
Use full-width buttons for single actions like, "Done", "Shuffle", or "+ Alarm".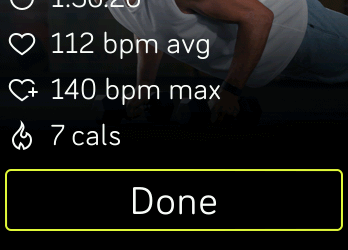 Details
Size
Width: Full-screen, respecting device margin
Normal State
Color: Primary color
Stroke: 2px
Active State
Color: Same as Normal State
Behavior: Fill button with color
Half-Width
Use half-width buttons for choices, like "Yes" or "No".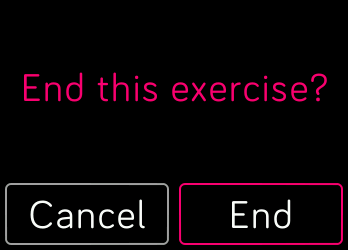 Details
Size
Normal State
Primary Button:

Color: Primary color
Stroke: 2px

Secondary Button:

Color: Light Grey
Stroke: 2px
Active State
Color: Same as Normal State
Behavior: Fill button with color
Toggle
Use a toggle for either/or selections, like "On" or "Off". There are three states: active, pressed, and inactive.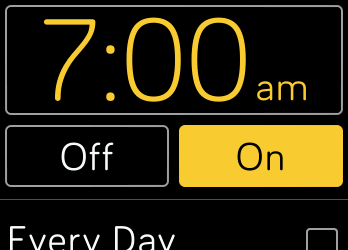 Details
Size
Active and Pressed states
Color: Whichever semantic color makes sense for your option, or primary color
Behavior: Fill selected button with color
Inactive state
Color: Light grey
Stroke: 2px
Combo Buttons
Combo buttons are circular buttons that sit in a corner of the screen and control activity sessions. When in the right-hand corners, combo buttons are controlled by both screen taps and the corresponding hard buttons. For water-based activities, turn off the interface buttons and use hard buttons only. Consider how the actions your buttons control will change during use.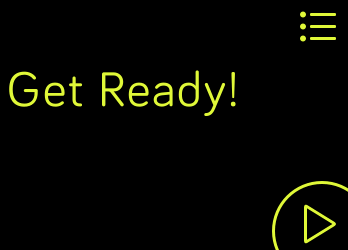 Primary actions go on the bottom right corner and are the only button with a visible ring to call attention to use. Secondary actions go in the upper right corner. The left corner can be used for tertiary actions, like settings. The left two interface buttons do not correspond with hardware buttons and should be used sparingly.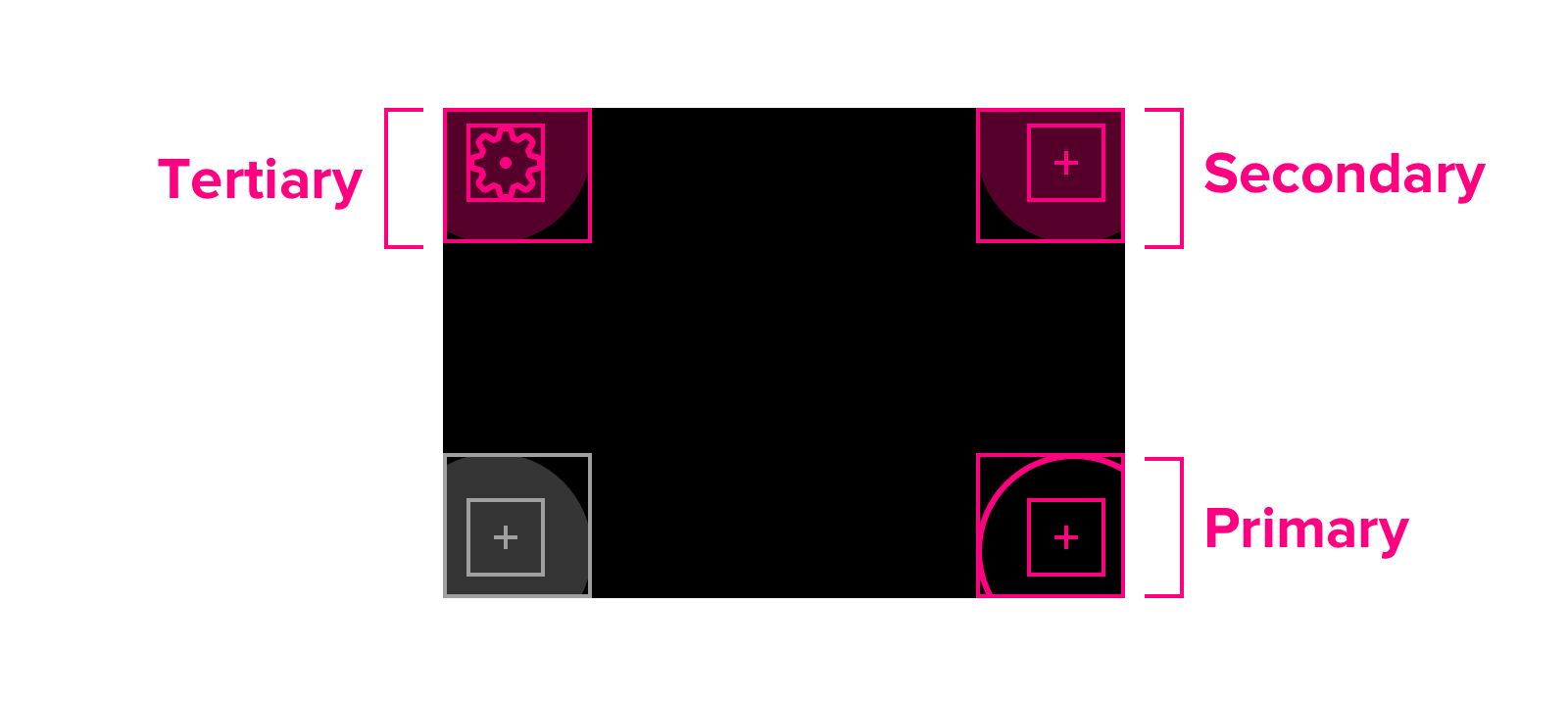 Details
Default State
Icon:

Size: 40x40px
Stroke: 2px

Color: Primary color or semantic
Background Circle:
Primary Button Ring:

Size: 60x60px
Stroke: 2px
Color: Same as icon
Hardware Key Enabled
Size: 6x6px dot
Placement: Centered, near hardware button
Pressed State
Icon Color: Filled black
Background Circle:

Color: Filled icon color
Size: 60x60px
Format
Haptic
Tumbler
Tumblers are used to choose letters and numbers for a user's input, like in a countdown timer or alarm. Tumblers are aligned to the left screen edge by default, and the position of the active number is fixed in the middle. Multiple tumblers can used together. For example, hours tumbler and minutes tumblers. Users can see the inactive values above and below the active number.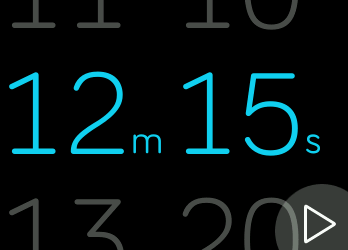 Details
Active Value
Font: Large number
Color: Primary color
Inactive Value
Font: Same as active value
Color: White, 31% opacity
Label
Font: Medium header
Color: Same as active value
Leading 0s
Font: Same as active value
Color: Dark Grey
Haptics:
Bump on swipe with velocity
Recommendation
Abbreviate your Labels ("m", "s", "cals").
Action Dialog
Action dialogs provide focused information for a user to take action. While this component isn't in our, SDK, you can create it using mixed text and square buttons. You can provide a user with 1 or 2 options, using one full-width or two half-width square buttons.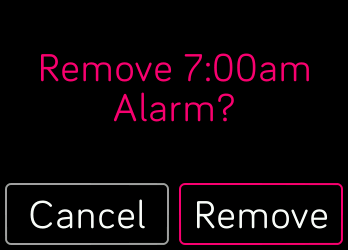 Details
Font
Color
Header: Primary color or white
Copy: White
Full-width/primary-half Width button: Primary color
Secondary button: White
Recommendations
Use sparingly.
Reserve for scenarios where users need to make important, irreversible confirmations.
Panorama
The panorama component shows data on different screens that a user can swipe through horizontally.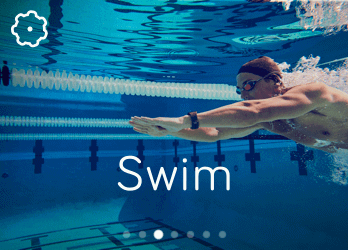 Details
Font: Medium header
Color: White or custom
Pagination Indicator
The pagination indicator signifies the presence and position of horizontal screens. The widget shows the position per screen, with the current screen position highlighted. These can be positioned at the top or bottom of the screen.
Marquee
Use the marquee component for dynamic content that's expected to regularly overflow its bounds. We use this component exclusively for song titles in our media player and recommend limiting its use. The marquee should scroll across the whole screen and shouldn't be used on screens the users swipes horizontally.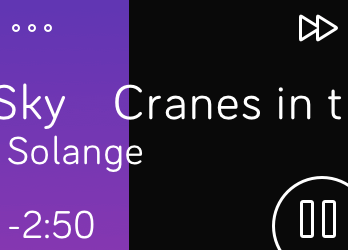 Scrollview
The scrollview component is a free-form container used to display text that must scroll vertically, like an article. You can include any other components in this container. Use for content that expands beyond the height of the screen.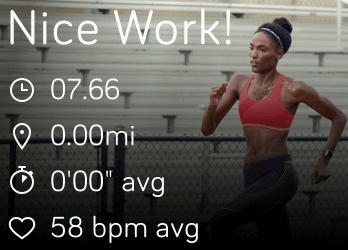 Scrollview Headers
To separate scrollview sections, use a scrollview header component which optionally snaps to the top of the screen. After a user scrolls through all items in a section, the next header snaps to the top of the screen.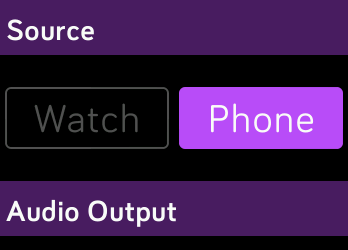 Details
Header
Font: Medium copy bold
Color: White
Alignment: Top
Header Container
Width: Screen-width
Height: 55px
Color: Primary color at 50% on black background
Tile Lists
Tile lists are scrollable containers comprised of tiles, which are stackable repeating components. While scrollviews are free-form, tile lists must use repeating tiles of the same type. Different types of tiles are available in Fitbit OS, or you can create custom tiles.
Tiles never grow beyond the height of the screen and you can allow the user to reorder them. Tile lists may contain headers and footer tiles that differ from the repeating tiles and can be made from other components. For example a Tumbler can become a header tile and a Button can become a footer tile. Space separators or line separators may be used in between tiles.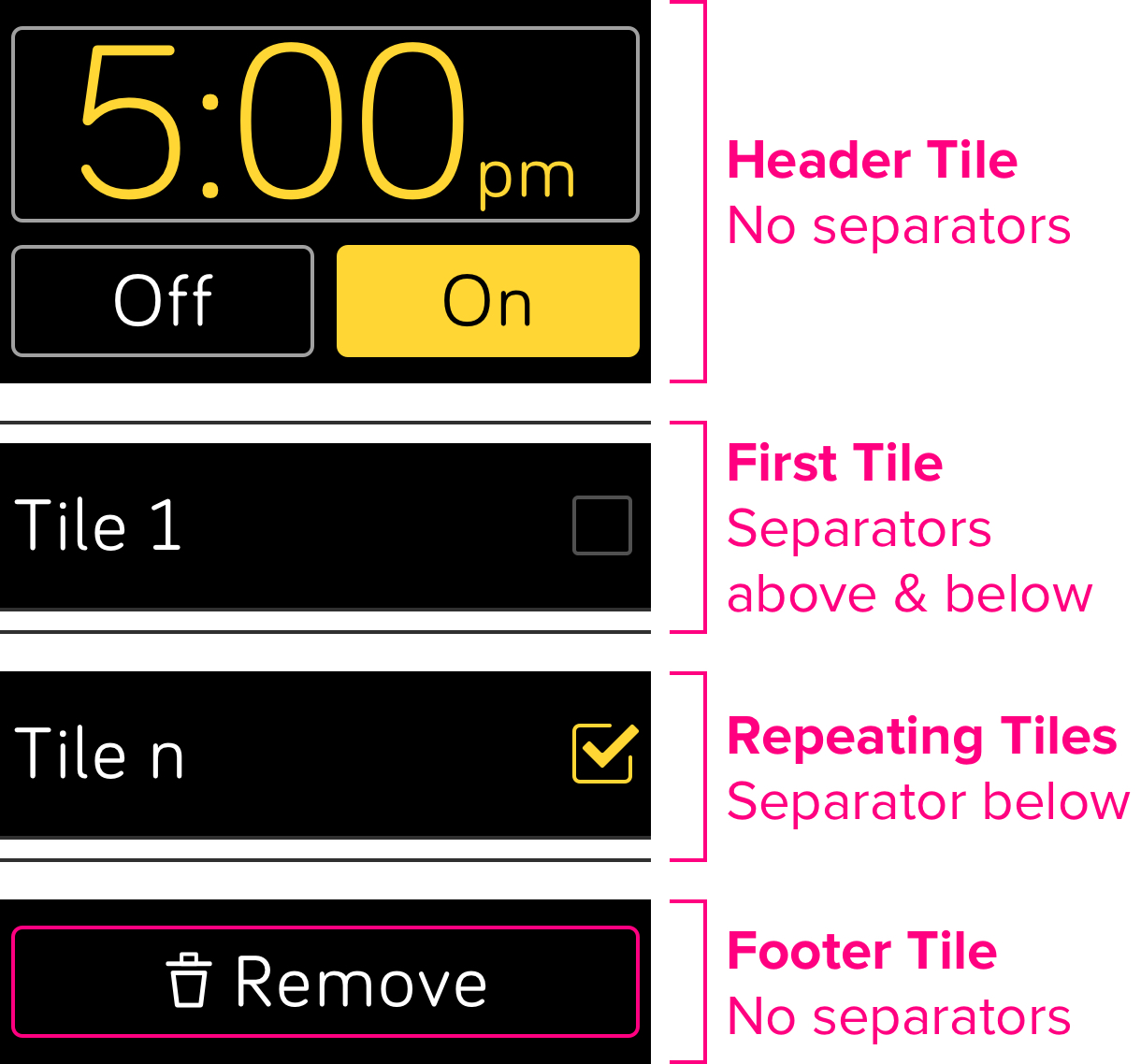 Details
Line separators
Size: Length of screen
Stroke: 2px
Color: Extra dark grey
Tiles
Width: Screen width
Max height: Smaller than screen height
Background Press Color: Slate press
Basic Tiles
Basic tiles are the basis for all text-based tiles. This component handles text layout, wrapping, and expansion using system fonts. Basic tiles respect the same typography and spacing conventions used in the mixed text component. All basic tiles can be interactive and expand in height up to 124px, with the exception of tiny tiles.
Use basic tiles as a foundation for any custom tiles you create.
Details
Small
Recommended use: Single line headers
Minimum Height: 88px
Junior
Recommended use: Single line headers that need a little more height than Small.
Minimum Height: 100px
Medium
Recommended use: Best size for fitting two tiles on a screen
Minimum Height: 124px
Tiny
Recommended use: Summary list items
Fixed Height: 46px
Font Size: Medium Copy
Rules:

Single line of text
Not interactive
No separators
Text Toggle Tile
A text toggle is a tile in a list that cycles through options. A standard application for this type of tile is within a settings list. Text toggle tiles must have a title and a list of options.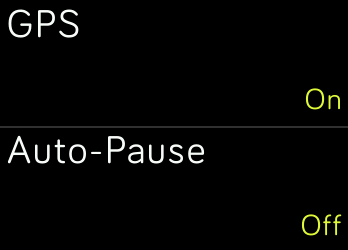 Details
Basic Tile Type
Header
Font: Medium header or medium copy
Alignment: Left
Font Color: White
Text Toggle
Font: Medium copy
Alignment: Right
Font Color: Primary color
Separator
Recommendations
Reserve use for app settings.
Keep the number of toggleable options limited.
Checkbox Tile
A checkbox tile in a list toggles between a selected and unselected state. Checkbox tiles are used for a list of options, where multiple items can be selected.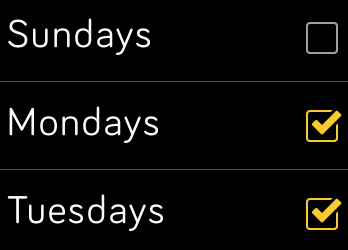 Details
Basic Tile Type
Header
Font: Medium header
Alignment: Left
Font Color: White
Toggle Icon
Asset: 40x40px
Color "Off": White, 63% opacity
Color "On": Primary color
Checkbox Icon
Separator = Line Separator Required