App, App, and Away! The Fitbit App Gallery is Open for Submissions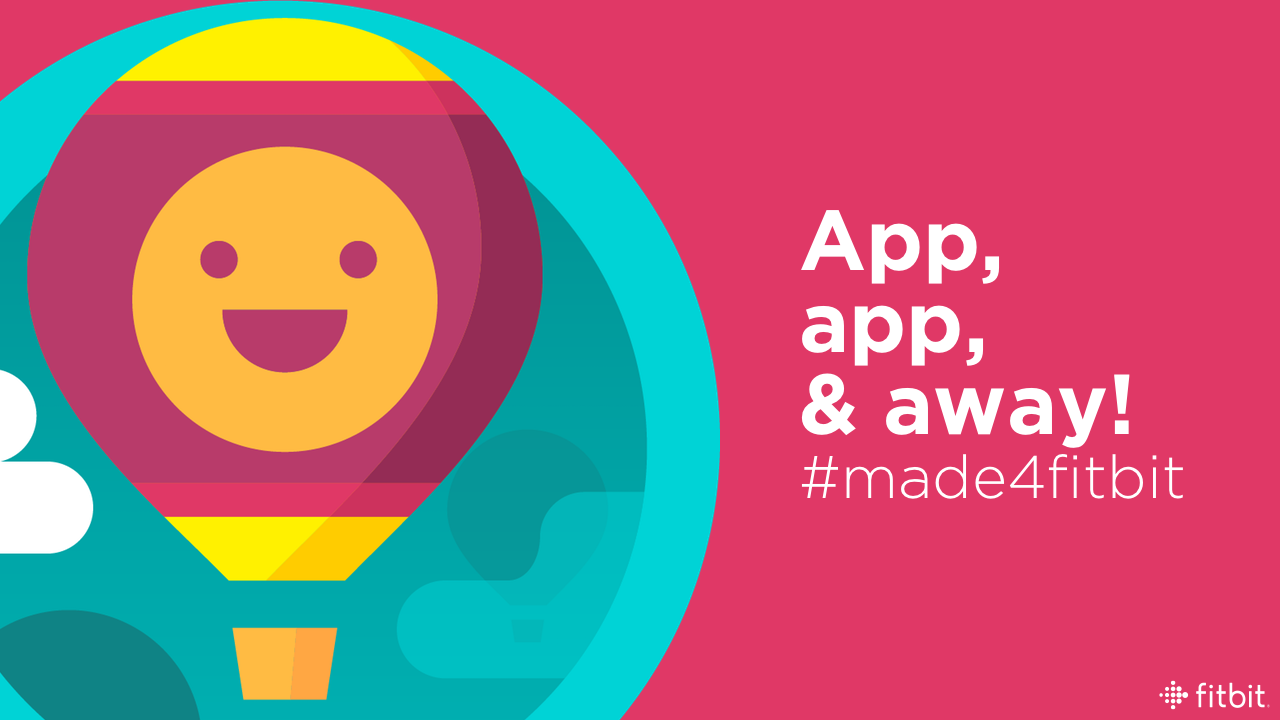 It's time. Are you as excited as we are? Developers are now welcome to submit their Fitbit OS apps and clock faces to the Fitbit App Gallery for review. We're happy to reach this next chapter in our Fitbit SDK story, and look forward to showcasing your work on our platform.
Approved apps will be publicly visible in the Fitbit App Gallery to our global user base before the holidays, with the public release of Fitbit OS 1.1. Be on the lookout for that milestone---we're excited for it!
"GAM" ON! Submitting to the Fitbit App Gallery
To begin submitting apps and clock faces for the Fitbit App Gallery, follow these steps:
Visit the Fitbit Gallery App Manager (GAM).

Log into the portal using your Fitbit Developer Account email and password.

During your first visit to the GAM, you'll have to agree to the Fitbit App Distribution Agreement and set a Developer Profile Name---have fun with it, but note that your profile name cannot be changed after setting it.

To make your first submission, select Create app.

Name your submission (in 30 characters or less). The name you set will be the app or clock face's public title in the App Gallery, so make it count! Names can be revised before your app is approved and are locked in when the app or clock face is public in the Fitbit App Gallery,

Select whether you're adding an App or Clock face. Your newly-created submission will now appear in your GAM dashboard.
Once apps and clock faces are filed within your GAM dashboard, you can visit them at any time to complete your listings and flag them for Fitbit App Gallery review. Simply click the Name of your app or clock face to edit its information.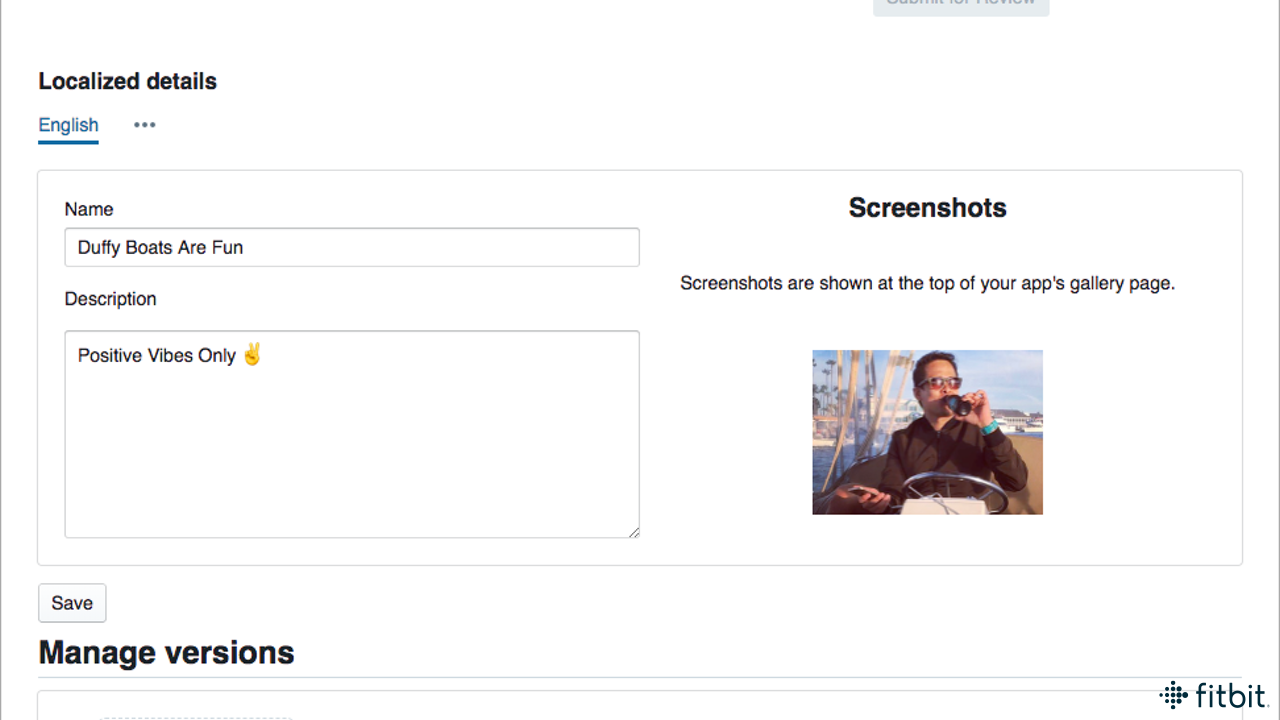 Localized details. English is selected by default. Click the ••• menu to specify which languages your app is localized for. You can currently specify localizations for English, Chinese (Simplified or Traditional), French, German, Italian, Japanese, Korean, and Spanish.
Description. Provide a brief, informative, and fun summary of your app or clock face in 1,000 characters (emoji is supported 🙌 ) or less. What can the user expect? Why is it awesome? Include any instructions for use and note any safety or other relevant warnings. If your submission collects user data, mention that in the description with a link to your privacy policy. Noting any issues or bugs is also helpful.
Screenshots. Screenshots are shown at the top of your app's gallery page listing. Upload the required amount of screenshots for your submission. Clock faces require 1 screenshot; apps require a minimum of 3 and no more than 5. Screenshots should be PNG or JPEG images, measuring 348x250 pixels.
Icon image (Apps only). Prepare and upload an app icon for your App Gallery listing (PNG, 160x160 pixels).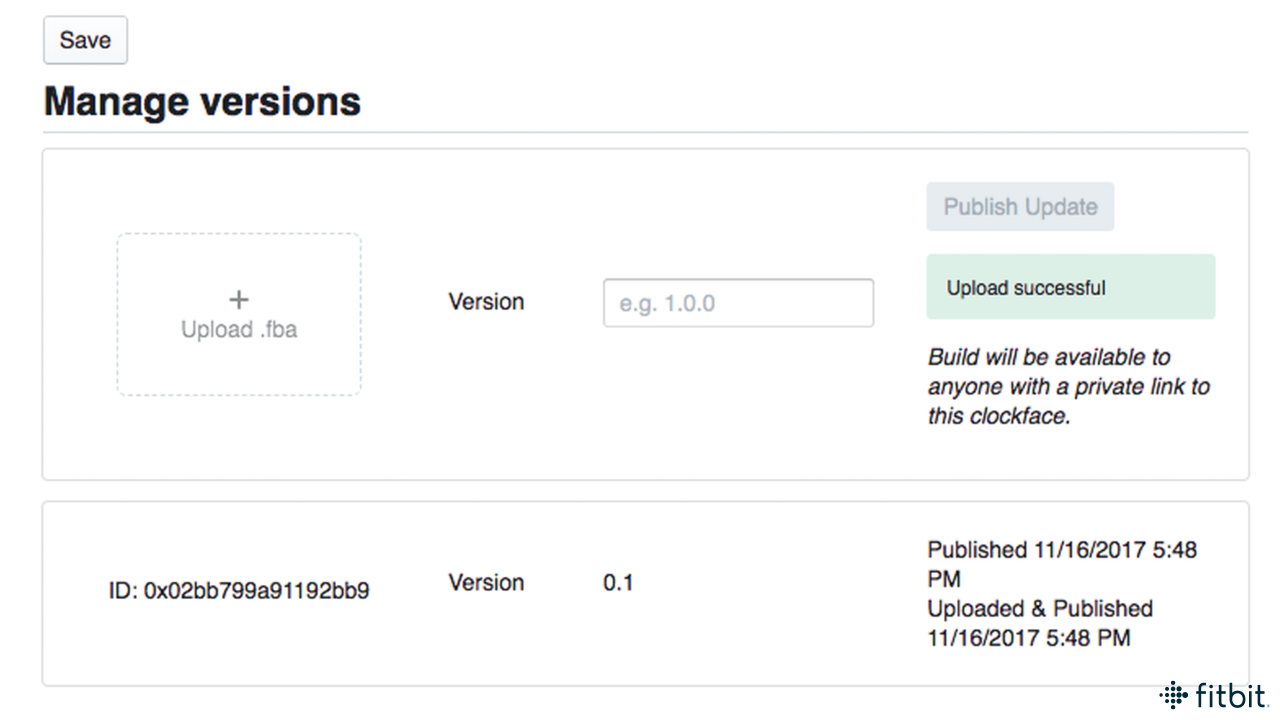 Manage versions. Use this section to upload your .fba files, manage version numbers, and "publish" your submission. Publishing a completed listing will set your listing to Private and give you a preview link. The preview link lets you see how your listing will appear in the Fitbit App Gallery. You're welcome to share the link with other users, if you choose to give folks a taste before approval.
Submit for Review. After successfully completing all the steps required in the Gallery App Manager for your listing, you're welcome to click the Submit for Review button that appears.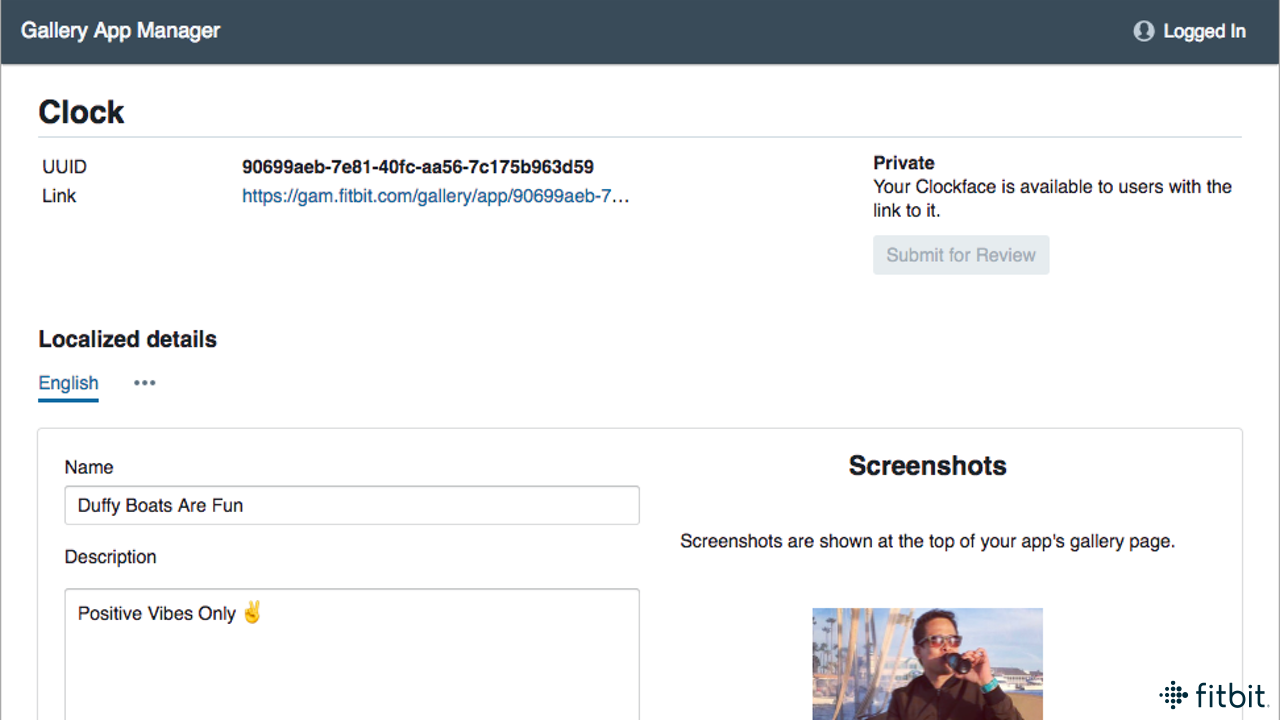 Approved apps. After review, developers will receive an email notification when their apps and clock faces are approved for the Fitbit App Gallery. Once approved, you will need to navigate to your app listing and publish the release to finalize the process.
Best Practices
If you're keen to see your app or clock face move quickly through the App Gallery approval process, ask yourself these questions:
Until Next Time
Thank you to the developer community for all of your hard work so far. With submissions to the Fitbit App Gallery now open, we're inching ever closer to our global community enjoying the experiences you have in store for them.
Follow @fitbitdev on Twitter, join our Fitbit Community Forum, or get news straight to your inbox by signing up below. Curious to see the amazing work Fitbit Developers have done so far? Keep tabs on the #Made4Fitbit Twitter hashtag.