Showing Pebblers Love with Longer Device Support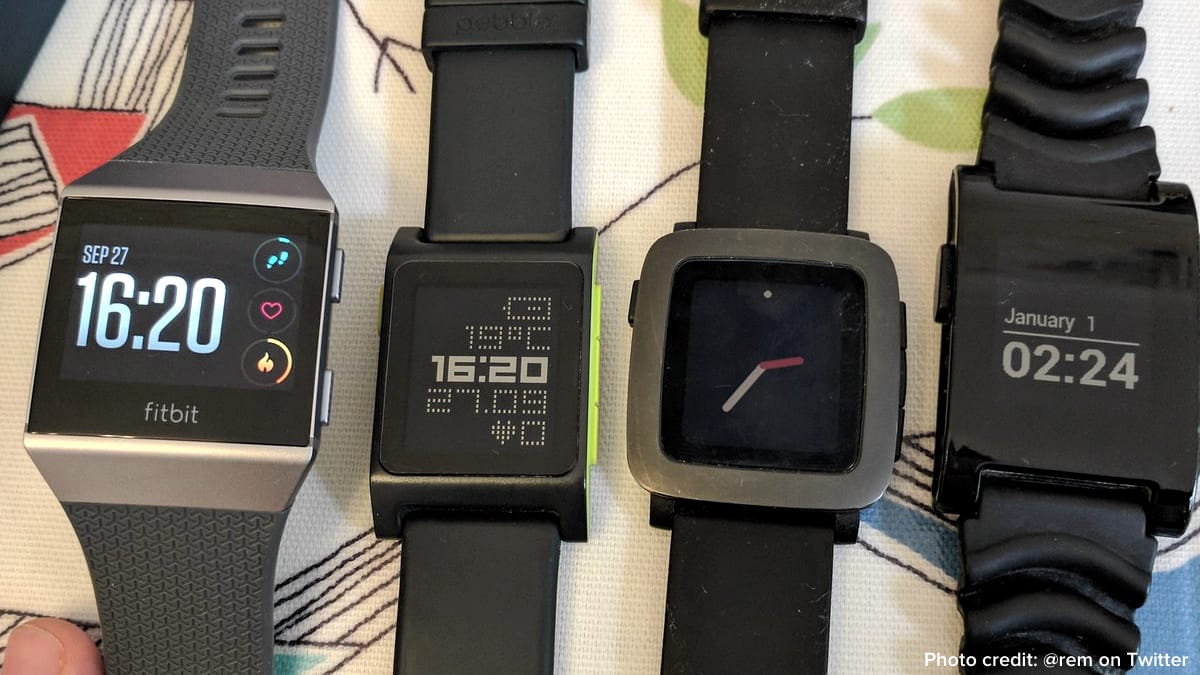 At the end of 2016, we welcomed key members of the Pebble smartwatch team and acquired assets related to their software platform and ecosystem. Since then, our combined efforts as a unified platform team brought Fitbit OS to life.
Fitbit Ionic, the first device powered by Fitbit OS, showcases many features and experiences Pebble users will find familiar, from a developer-friendly SDK to an app gallery where users can tailor their Ionic experience with more than 350 awesome apps and clock faces. We continue to incorporate what made Pebble great as Fitbit OS grows, evolves, and powers more Fitbit devices in the future.
Combining Pebble's talent and resources with Fitbit's gave us the additional honor of welcoming the Pebble community as a part of our own. To give "Pebblers" ample time to explore Fitbit products while enjoying their current Pebble devices, we committed to preserving the Pebble user experience through 2017, despite not acquiring any of Pebble's hardware lineup.
Pebble users are passionate about their smartwatches. With that in mind, Fitbit is extending its support of the Pebble smartwatch ecosystem for six more months, to June 30, 2018. During this time, we invite the Pebble community to explore how familiar highlights from the Pebble ecosystem are evolving on the Fitbit platform, from apps and clock faces to features and experiences.
We're thrilled to see hundreds of former Pebble developers already building with the Fitbit SDK, and look forward to helping more Pebble devs flex their creativity on a wearables platform that can reach millions of Fitbit users worldwide.
Finally, for all current Pebble smartwatch owners, we're offering an exclusive Fitbit upgrade discount this Spring.
What to Expect with Your Pebble
Between now and June 30, 2018, Pebble users can expect the same experience they enjoyed throughout 2017. This six-month extension of Fitbit's support for Pebble's infrastructure and web-based features will help the Pebble community assess comparable options on the Fitbit OS platform, and give Pebble developers more time to build amazing things with the Fitbit SDK.
Pebble devices and mobile apps will continue to work after June 30, 2018, but the following Pebble services will end:
Pebble appstore
Pebble forum
Voice recognition features
SMS and email replies with iOS (Android will keep working)
Timeline pins from third-party apps (Calendar pins will keep working)
CloudPebble development tool
There will be no further updates to Pebble's mobile apps for iOS and Android. The latest versions of both Pebble apps remain compatible with current versions of iOS (iOS 11) and Android (8.1 "Oreo"). Users should note that it's possible for future iOS or Android updates to break Pebble compatibility.
Aside from the features and services shutting down above, Pebble watches will continue to work after June 30. Users can even use community-developed Pebble app stores---like our friends at Rebble---to manage watchfaces and apps.
Fitbit OS Now and in the Future
Fitbit OS will continue to grow and expand. We're eager for the Pebble community to join the adventure. There's so much within the Fitbit platform for Pebble fans to love:
Fitbit App Gallery. Personalize your experience with apps, clock faces, and experiences from Fitbit, popular brands, and indie developers.

Pebble favorites on Fitbit OS. Many top Pebble developers are already building apps and clock faces for Fitbit OS. Pebble fans might recognize favorites like Globetrot by MicroByte, Slides of Time by Morris Timm, and StepVerse by Valorin, already available in the Fitbit App Gallery.

First-class health and fitness features. Whether you're kickstarting your fitness journey or ready for the next level, Fitbit products are the leading wearables brand for living a healthier, more active life.
Until Next Time
Follow @fitbitdev on Twitter, join our Fitbit Community Forum, or get news straight to your inbox by signing up below. Curious to see the amazing work Fitbit Developers have done so far? Keep tabs on the #Made4Fitbit Twitter hashtag.